Click to see the modules and take the quizzes:
Grammar:
In, On, At: The Use of Prepositions
Parts of Speech: Focus on Modifiers
Reading Strategies:
Critical Thinking and Active Reading
Strategies for Reading Literature
Analysis of Non-Literary Texts
Writing Strategies:
The Essay Content and Structure
Thesis Statements and Topic Sentences
Personal Statement Guide (no quiz)
Digital Literacy:
Making the Most of Wordreference
Oral Competency:
Academic and Professional Preparation:
---
ESTUDIO INDEPENDIENTE
Estos ejercicios están dirigidos a toda persona que desee repasar diferentes aspectos del lenguaje. Estos ejercicios NO generan evidencia de práctica. Si un(a) profesor(a) solicita evidencia, es su responsabilidad tomar un "screenshot" del resultado y compartirlo con él o ella. Recuerde que en el CDCL no tendremos evidencia y no podremos ayudarle. Ejemplo: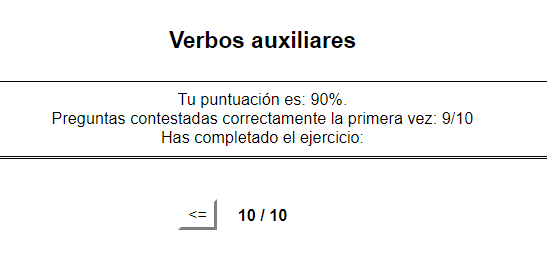 Instrucciones:
Haga clic en el ejercicio que quiera completar.
Guarde el archivo en su computadora.
Abra el archivo.
Grabe una imagen de su puntuación como evidencia.
---
Vocabulary in Context
Thesis Statements
Verbs
Sentences
Conjunctions
Other Topics